Stable Door Lock
Timber Single Stable Door Design
The top section is a lift lever multipoint lock and the bottom section is a wind up multipoint lock.
On the top section you lift the lever to engage the locking points and turn the key. This stops the handle from being depressed and disengaging the locking points. By unlocking the key cylinder it enables the handle to be depressed. This disengages the locking points and pushing the handle down also releases the latch to allow the top door to open.
On the bottom section turning the cylinder three revolutions you engage the locking points. To disengage you turn the cylinder three revolutions in the other direction. When you unlock this section a shootbolt engages into the top section enabling both sections to open together.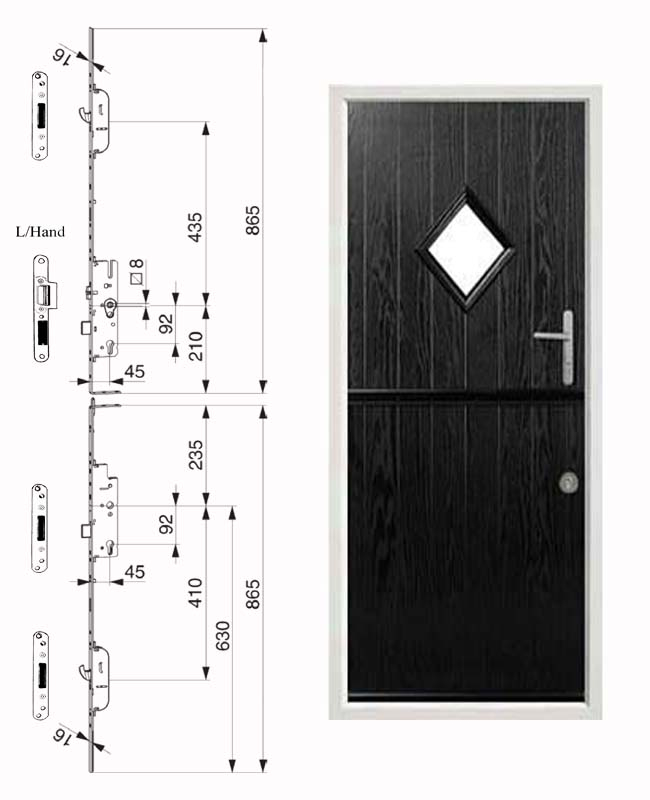 Part Number
Description
Quantity Required
MA-103057
Stable Door Lock Set
1
MA-218141
Hook Keep
3
MA-218142
Right Hand Latch Keep For 44mm Door

1 Required

MA-218143
Left Hand Latch Keep For 44mm Door
MA-226774
Right Hand Latch Keep For 56mm Door
MA-226775
Left Hand Latch Keep For 56mm Door
In the table are shown the components required for this type of door operation. To decide which latch keep is required, please see the diagram below: